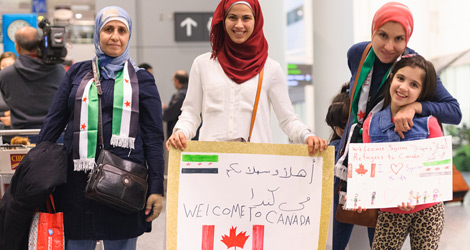 With the PSR program, Canadians can sponsor refugees from inflicted countries to come and settle in Canada. The role of a sponsor is to support the refugees during the entire length of the sponsorship, in terms of financial, social and emotional support. There are a number of categories under the privately sponsored refugees program . They include:
Group of 5: In this category a group of five or more Canadian citizens or permanent residents can sponsor refugees to Canada. The group must provide evidence that they have enough money to sponsor and support the refugees and that they understand the full sponsorship obligations.In addition, all sponsoring members must meet all of the following criteria:
Must be a Canadian citizen or permanent resident, 18 years of age or older;
Live in the community where the refugees are to be settled;
Not be in default of previous refugee or family sponsorship commitments.
Community Sponsorship: In this category, an organization, association or corporation can sponsor refugees to come to Canada. A community sponsor can only sponsor an applicant who already has refugee status. This means that they can only sponsor refugees who have a document declaring them deemed of this status by the United Nations High Commissioner for Refugees (UNHCR) or by the country where they are currently living in.
Sponsorship Agreement Holders (SAH): There are a number of organizations and groups that have signed agreements with the government to help support refugees to settle when they arrive in Canada. These groups are called Sponsorship Agreement Holders, and can sponsor refugees themselves or work with others in the community to sponsor refugees to Canada.