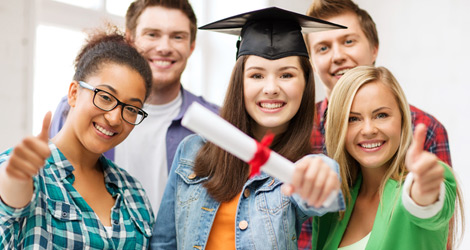 Post Graduate Work Permits
International students in Canada also have an excellent advantage to further develop their careers and stay here permanently. After receiving a post-secondary education, students are in the position to apply for a post graduation work permit that allows them to extend their stay and gain professional experience in the Canadian economy. With the post-graduate work permit, students have three years to live and work in Canada with any employer. It is not necessary that they have a letter of employment when applying for the post-graduate work permit.
Following are the requirements to attain a post-graduate work permit :
Students must have continuously studied full-time for eight months prior to the completion of their program and must have either graduate from a public post-secondary institution, private post-secondary institution, a Canadian private institution recognized by provincial statute;
Must apply within 90 days after receiving confirmation in writing from the academic institute they attended that they have met all requirements to obtain a post-graduate work permit;
Have successfully completed the program of study and received in written notification that they are eligible to obtain their degree, diploma or certificate, and
Have a valid study permit when applying for a post-graduate work permit .
Become a Permanent Resident
Immigration, Refugees, and Citizenship Canada (IRCC) wants to retain international students and contribute to the Canadian economy. The IRCC also wants these students to become next generation permanent residents and have introduced programs that allows international students to transition to permanent residency. They include:
Canadian Experience Class – students with professional experience in the Canadian market can transition to permanent residency based on their work experience;
Provincial Nominee Program – Each of the provinces in Canada have programs that allow graduates to immigrate permanently;
Quebec Experience Class (PEQ) – students who studied in the Quebec can immigrate permanently to Quebec based on their work experience.
Immigration Grounds has helped thousands of students successfully gain PR status in Canada.There is a wealth of knowledge available for those who want to transition into permanent residency after completing studies but can be overwhelmed by the amount of information available. If you are an international student seeking advice and help for obtaining a post-graduate work permit or with your study permit needs, contact us today.